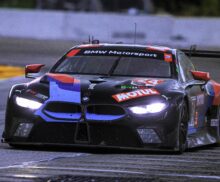 Woodcliff Lake, N.J. – Aug. 19, 2020 . . . BMW Team RLL hopes to keep the podium momentum, a third-place finish at Road America in the last round of the 2020 IMSA...
Read more
The most powerful AMG V8 series engine of all time, the most elaborate aerodynamics, the most intelligent material mix, the most expressive design, the most distinctive driving dynamics: For the new Mercedes-AMG GT...
Read more
The GT Daytona (GTD) No. 74 Riley Motorsports Mercedes-AMG GT3 with co-drivers Gar Robinson and Lawson Aschenbach return to Sebring this weekend as the most recent GTD race winners on the legendary circuit....
Read more