Mercedes-AMG Wins at Sebring International Raceway
The GT Daytona (GTD) No. 74 Riley Motorsports Mercedes-AMG GT3 with co-drivers Gar Robinson and Lawson Aschenbach return to Sebring this weekend as the most recent GTD race winners on the legendary circuit. In their first race with Riley Motorsports, the No. 74 Mercedes-AMG GT3 co- drivers led a team and Mercedes-AMG Motorsport customer racing win sweep of last November's Michelin IMSA SportsCar Encore four-hour race at Sebring.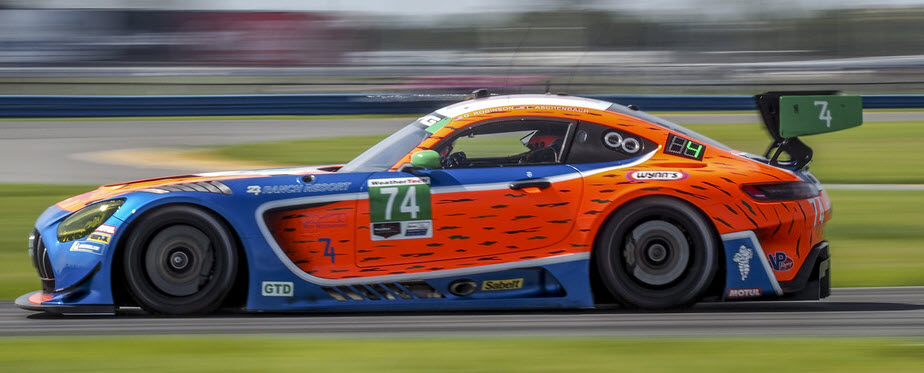 In Friday's IMSA Michelin Pilot Challenge two-hour race, a class-leading six Mercedes-AMG GT4 entries will compete in the top-tier Grand Sport (GS) class.
The No. 35 Riley Motorsports Mercedes-AMG GT4 of co-drivers Jim Cox and Dylan Murry secured a dominant victory in the GT4 class and joined Robinson and Aschenbach on the winner's podium at the Encore.
Cox and Murry return to Sebring as the most recent GT4 race winners at the track and in the 2020 Michelin Pilot Challenge series. Along with endurance race teammate Jeroen Bleekemolen, Cox, Murry and the No. 35 team won January's season-opening four-hour at Daytona, the only Michelin Pilot Challenge race run thus far in 2020.
The No. 35 team's Daytona victory anchored the first 1-2-3 finish for the Mercedes-AMG GT4 in worldwide competition. The winners were followed across the finish line by the No. 57 Winward Racing Mercedes-AMG GT4 of co-drivers Bryce Ward and Philip Ellis and the team's sister No. 4 entry of Russell Ward and Indy Dontje.
Full-season teammates Russell Ward and Dontje return to the No. 4 at Sebring while Bryce Ward co-drives the No. 57 with team and Mercedes- AMG newcomer Alec Udell. Based in Texas, Udell, 24, won a European GT4 championship in 2019, in addition to race and championship-winning success in the U.S. over the last few years.
Murillo Racing fields another two-car Mercedes-AMG GT4 effort this weekend at Sebring.
The No. 56 Murillo Racing Mercedes-AMG GT4 of Jeff Mosing and Eric Foss ran in formation up front with the Riley and Winward cars at Daytona, only to drop from contention late in the race.
Mosing and Foss look to rebound at Sebring where they compete alongside the sister No. 65 Murillo Racing Mercedes-AMG GT4 entry of Tim Probert and debuting IMSA driver Kenny Murillo, 23, who is filling in for regular team driver Brent Mosing.
The younger Murillo co-drove to a pair of Pirelli GT4 America SprintX race wins last year at Sonoma Raceway and Portland International Raceway in a Murillo Racing Mercedes-AMG GT4.
The sixth Mercedes-AMG GT4 entry at Sebring comes from Autometrics Bluff City Racing with the No. 14 Mercedes-AMG GT4 for co-drivers Anton Dias Perera and Cory Friedman. The team is set for just its second race in IMSA Michelin Pilot Challenge after debuting in January at Daytona.
Lawson Aschenbach, Driver – No. 74 Riley Motorsports Mercedes- AMG GT3: "I am overly optimistic. Overall, it felt to me that the Mercedes- AMG GT3 suits Sebring International Raceway very well. The game has changed a little bit with using a harder Michelin tire, so there is a little question mark with how that will affect every car when we get there. Regardless of that, we know showing up that we are going to have a good starting setup. I am pretty confident we have the speed in the car to win. As long as Gar and I do what we do best, and to the best of our abilities, I think we are going to have a good shot at it. Winning the Encore in our debut with Riley Motorsports gave us a ton of confidence going into 2020. It felt like we had been with the team forever. We all took to each other very well.
Russell Ward, Driver – No. 4 Winward Racing Mercedes-AMG GT4: "We have had to adjust a little bit because some of the European travel rules currently are different from country to country. Indy will be able to join us from Holland, which is different from Switzerland, where Philip is from. So, Alec is going to step in the No. 57 and drive with my father. It is exciting to have Alec with us. I think it is going to be good. We tested with him at VIRginia International Raceway (VIR) and he was quick and fit right in. He was able to pick up and be on pace pretty fast. He will be a really good driver and another boy on the team from Houston, so we know he is good! I love Sebring and the Mercedes-AMG GT4 is good there. It suits the track and is good over the Sebring bumps. We are looking forward to it and feel we have a really good chance to win at Sebring."
Alec Udell, Driver – No. 57 Winward Racing Mercedes-AMG GT4: "I am really looking forward to running with the Winward Racing team this week at Sebring in the Mercedes-AMG GT4. We were testing the car a few weeks ago at VIR. It was my first time behind the wheel of the Mercedes- AMG, and I was really impressed how good of a car it is. I have seen from the outside, having run against the car for a few years, that it seemed like a good car, but to drive it firsthand you feel the great balance, which is not really an experience I think I have felt in a racecar before. I was happy to feel that experience and understand the car a little bit more. I think there is a little bit left in the car. The Mercedes-AMG GT4 is a very approachable car to drive, and I am looking forward to getting more time in it this week. It's a great platform to run on that challenging circuit, and it will be great to rejoin Winward and race this time. We all gelled well together, Bryce and I got along very well, and we have a similar understanding of how we drive the car and how we express how we feel behind the wheel. I am from Houston and the team is from Houston. We have similar mindsets going into things, and I am looking forward to running with essentially a home team, which is something I have not done for a long time. There's a lot of good things going into this weekend at Sebring."
Kenny Murillo, Driver – No. 65 Murillo Racing Mercedes-AMG GT4: "It's quite the task. I think this will be the hardest race on this year's IMSA schedule. For it to be my IMSA debut is a little intimidating, but it does not affect my performance at all. If anything, it just motivates me to do better. I have never driven anything at Sebring before, but being fortunate to have been born and raised in the professional racing scene, I have been there many, many times. I am surrounded by great professionals that have had success at Sebring and they are giving me tips and letting me in on some tricks. I am just very grateful for the opportunity overall, especially to be able to drive with Tim Probert. He is such an amazing guy. I am excited to not only race at Sebring but for the learning opportunity. Racing in IMSA has been a childhood dream since as long as I can remember."
Dylan Murry, Driver – No. 35 Riley Motorsports Mercedes-AMG GT4: "It has been pointed out to me that when this unplanned break from racing ends this week, Jim Cox and I, along with Riley Motorsports, may have the new record for the longest time being undefeated in IMSA competition, dating all the way back to the Michelin Encore on November 10 of last year. Friday's green flag drops a full 250 days after the Encore. That's more than eight months ago! That's pretty cool to know that fact and show how unbeatable we are!"