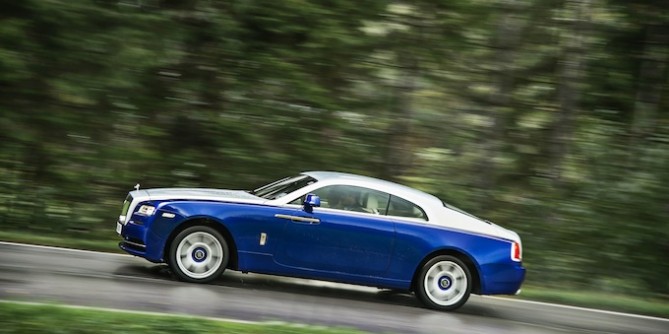 Rolls-Royce Wraith – an Otherworldly Driving Experience
Published on Autobahn Buzz (Rolls-Royce Wraith)
Before Halloween of 2013 I'd never ridden in a Rolls-Royce, let alone driven one. This Halloween was quite the treat, as both goals were accomplished in style. As one of the owners of Autobahn Buzz, Rolls-Royce invited me to take a 210-mile test drive in the Arizona desert of its brand new Wraith, so long as I promised to report back to our readers what I thought about this new Rolls-Royce Wraith coupe.
My day began with a very early start. Like that rakish rogue and world class beach bum Travis McGee, protagonist of the wonderful writer John D. MacDonald in the great Travis McGee series of novels, I awoke without benefit of using an alarm clock (iPhone) at 3:45 am, thanks to my internal McGee like alarm clock in my head. The flight to Phoenix, Arizona would be leaving from San Diego International Airport at 6:30 am of Halloween 2013, so I needed to be on the road by 4:30 am from the Autobahn Buzz west coast office in beautiful Oceanside, California to get to Lindbergh Field in time to do the strip-tease dance through airport security.
Knowing that Rolls-Royce had kindly hired a professional photographer to take still and action shots of the Wraiths, I traveled light, with just a notepad, pen and an iPhone in my possession. An attractive lady holding a Rolls-Royce Wraith sign greeted me upon my arrival at the Phoenix Airport ground transportation area and walked me out to a resplendent 2013 Rolls-Royce Ghost sedan driven by a most accommodating chauffeur. Admittedly, I felt as though I was James Bond on another mission that promised several shaken and not stirred martinis, beautiful women, a fair bit of action and heroic deeds by yours truly and of course, several drives and/or rides in some astonishing automotive finery, exactly like the angelic white Rolls-Royce Ghost that I presently found myself within, ensconced in epic luxury befitting my secret agent status.
Rolls-Royce Wraith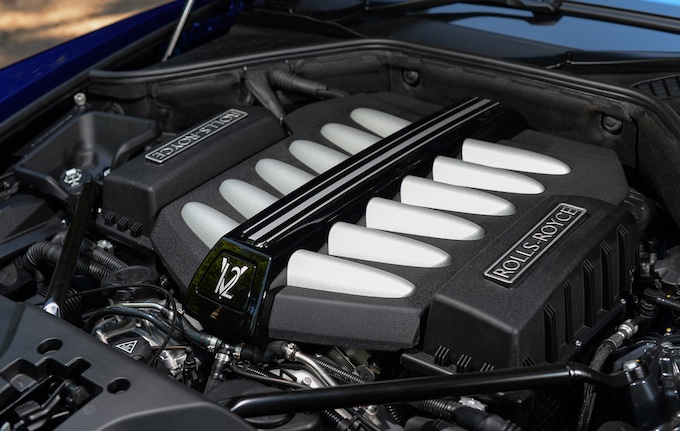 While I was being whisked away to The Phoenician Resort in nearby Scottsdale, I couldn't help but think that I was in store for a righteously royal test drive, if the Rolls-Royce Wraith was anywhere near as nice as the Ghost I was enjoying at that very moment. This is the life also repeatedly came to mind.
I knew that I was at my destination, when I saw a silver over Lapis blue Rolls-Royce Wraith on display in front of the Rolls-Royce suite at the resort. That elegantly racy fastback roof and those bespoke-era of automotive design and manufacture from the 1920s and 30s of luxury automobiles, the coach doors, also known as suicide, front-opening doors, adorned the Wraith.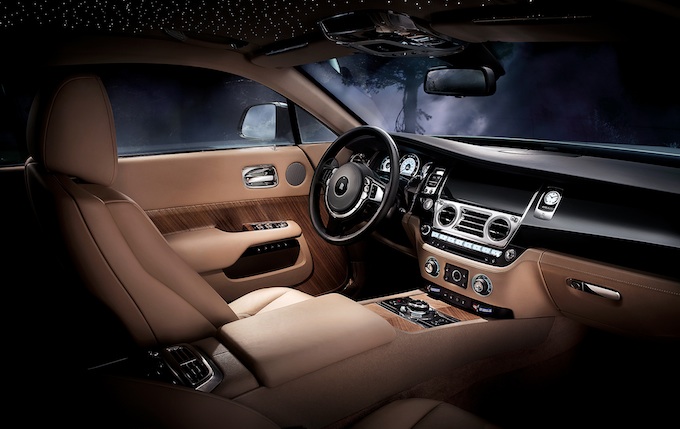 Kristina Marchitto, Head of Corporate Communications for Rolls-Royce Motor Cars North America, graciously greeted me as I approached the two-tone Wraith and invited me to enjoy a delicious breakfast and some English Breakfast Tea inside The Phoenician Suite. Mind you, the hot tea was my choice, not the only offering from the British automotive manufacturer. I prefer a spot of tea to coffee, and I must admit, English Breakfast Tea was a most appropriate selection given the car I would be driving and being the co-pilot in for the day.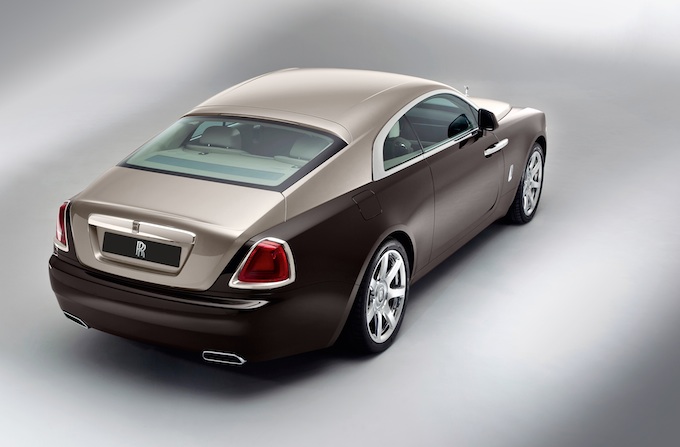 After breakfast, Richard Carter, Director of Global Communications for Rolls-Royce Motor Cars Limited, delivered a very informative and entertaining presentation regarding the history of Rolls-Royce and an introduction to the Wraith. Once Richard addressed our several questions, Rolls-Royce personnel paired up the journalists with who we'd be sharing the driving responsibilities with for our 210-mile tour of the Arizona desert. Our reason for being in Arizona had finally arrived.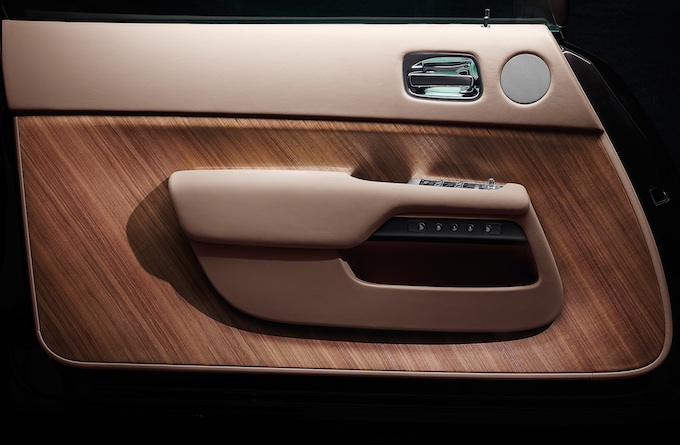 Esteemed Automotive Journalist, Hugo Becker, my designated Wraith co-pilot, and I walked out to our car, the first Rolls-Royce in the driveway, a metallic black super coupe that exuded speed, luxury and abundant wealth all in one glance. Corporate Communications Manager for Rolls-Royce North America, Oleg Satanovsky, introduced Hugo and I to some of the features of the Wraith and helped me make the proper driving adjustments to the seat, mirrors and steering wheel, as I would be piloting the luxury coupe first.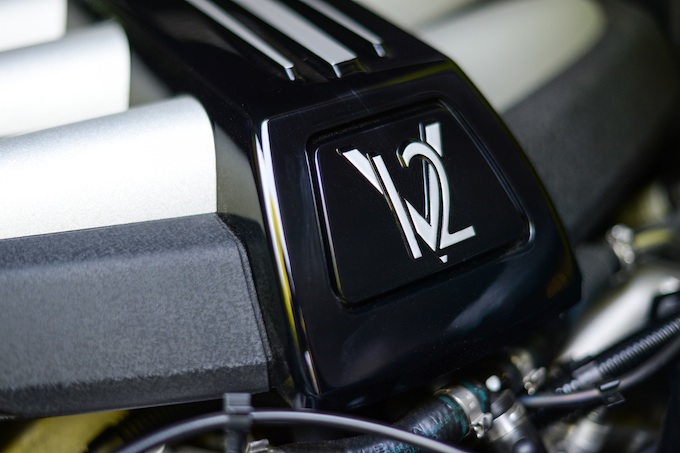 I'll admit that I was a bit overwhelmed with the prospect of driving a $325,000 luxury car, especially a Rolls-Royce. The new Wraith is the most powerful Rolls-Royce ever produced. My first impression of the car from the driver's seat was one of absolute unrivaled superlative fit and finish. The leather, wood, brushed aluminum, chromed brass…all of the raw materials utilized in the cabin of the Wraith are of the highest level of quality and fitment, with narrow and even gaps between different items that comprise the cockpit. The seats are ever so supportive, adjustable and comfortable in repose. As I was adjusting the seat's height and back lumbar support, I wondered to myself whether the driver's seat would hold me in place as I negotiated some corners at an aggressive rate of speed. Would this Wraith turn out to be some luxury cruiser without the handling to match the 624-horsepower, twin turbo V12 engine? That was the $325,000 question of the day.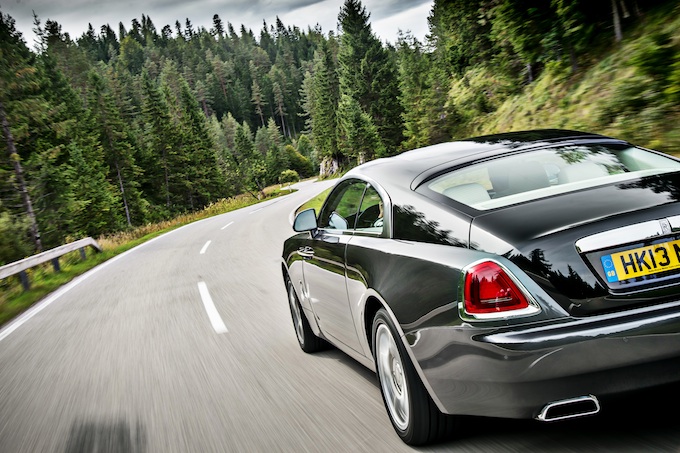 Since the key was already in the ignition, Oleg instructed me to push the start button. The Wraith came to life, yet you wouldn't know it without giving a strong blip of the throttle. I was struck with how massive the car felt and how high off the ground it seemed we were sitting. However, I should mention that the two cars that I consistently drive on a daily basis are miles apart from the luxury car that I was about to drive on Halloween 2013. I felt as though I was about to take on the city streets of Scottsdale in an enormous SUV. You see, my two cars are sports cars, a 1990 Mazda Miata with hand crank windows and broken air conditioning with a five-speed manual transmission, and a 1965 Factory Five Racing Cobra Mk4 roadster replica with no windows, no top and a six-speed manual transmission that's about as low to the ground as a Formula 1 race car. There are two things my Cobra does have in common with the RR Wraith. Both cars are hand built, and both machines are equipped with high horsepower, high torque engines.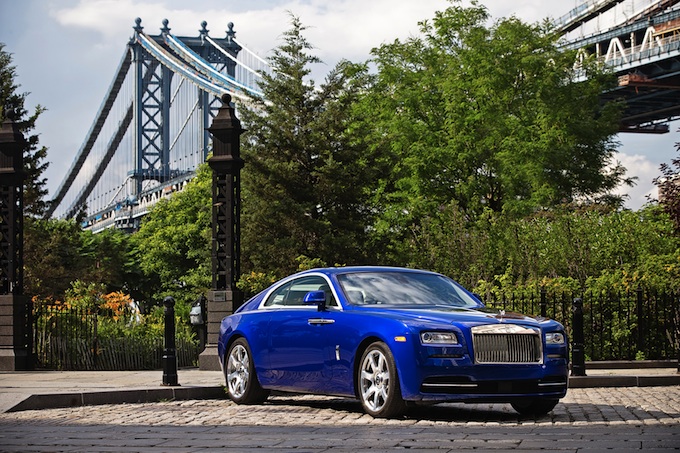 The Rolls-Royce Wraith In the City
I eased the Wraith away from the curve and made my way down the entry way to the Resort and onto Scottsdale's city streets. When we were a couple miles away from The Phoenician, the street was strewn with several potholes. Not being accustomed to the car yet and considering there were autos within close proximity of us, I didn't attempt to maneuver around the potholes. The Wraith's suspension soaked up the holes without incident and provided us with a confident and smooth ride. A little further on, there was road construction on the road Hugo and I were traveling. It appeared as though pipe was being laid along the street's edge in a dug trench next to the curb, so there was orange Do Not Cross tape lining the roadside.
The street was undoubtedly narrower than it would be otherwise, and we were traveling in a brand new, pre-production Rolls-Royce Wraith that costs more money than many houses that are sold in the U.S. To say that I felt as though I was being squeezed from opposing on-coming traffic on one side and the slow lane of traffic matriculating with Hugo and me to our right is an understatement. I couldn't wait until we got the Wraith out on the open Arizona desert highway.
Our articulate RR navigation hostess had a seductively efficient British accent, as she instructed us matter-of-factly the proper route to take. At last, the city confines and confluence of Scottsdale traffic was but a memory. We were climbing the canyons of the high Arizona desert on a well-paved two-lane highway. The Wraith was beginning to feel as though it was shrinking around me. No longer did I have the sense that I was in an immense SUV. Taking the corners at perhaps five to ten miles over the posted speed limit, the Wraith felt athletic and imminently composed, with a smooth yet supple ride. I half expected there to be the wallowy living room sofa sense of a too soft ride around the twisty parts of the highway, but there was none. The Wraith was growing on me and giving me the same sort of confidence that I feel, when I'm behind the wheel of one of my ultimate handling sports cars.
The Wraith On the Open Road
Obviously, the Wraith doesn't possess the handling characteristics of a Miata or a Cobra replica, but it goes down the road with a sophisticated air of confidence. The throttle response is instantaneous and rewarding. Roll-Royce's engineers deliberately tuned the sound of the exhaust to achieve a more throaty rumble than any Rolls-Royce Motor Car that has proceeded it. I love the sound of that lusty 6.6-liter, twin turbocharged V12 mill when it's coming onto song. It's intoxicating. Surprisingly, the hydraulic assist rack and pinion steering does provides good road feel. There's just the right amount of assist provided to turn the 5,380 gran turismo coupe while still providing sufficient road surface feedback to the driver. Similarly, the 15.5-inch ventilated front disc brakes and 15.8-inch ventilated rear discs achieve the absolute correct brake pedal feel, whether I came to a gentle stop in the city or as I gave a firm push of the brakes approaching the apex of a tight curve in the desert. It's evident that this car is designed, engineered and tuned to deliver the sort of spirited performance that's typical of the German Autobahn, which is why, I suppose, Rolls-Royce invited Autobahn Buzz to experience this open road loving Wraith GT coupe.
A few miles before we came to the designated driver change area, we encountered our first glitch with the pre-production Wraith. Our typically buttoned down and courteous British female navigation concierge rather abruptly advised us to make a U-turn. Hugo and I were on the only road in the desert. It made no sense to make a U-turn, so we ignored our nav concierge and continued. Again, and this time more sternly, she admonished us to make a U-turn. We ignored. I was thinking, "Don't be a back seat driver. I know where I'm going." A third time, and on this occasion she was downright petulant, but in her alluring British accent it was sort of funny and stimulating at the same time — words to the effect of, turn around now in a raised tone of voice.
No, Hugo and I were not going to turn around. Perhaps another quarter-mile down the road we made a left turn into our Rolls-Royce staff designated rest stop/driver change location. We knew we were in the correct place, as there was a pealescent white Rolls-Royce Wraith parked in the lot with a well-dressed and most affable Rolls-Royce employee waiting for us with bottled water. He inquired how we were doing thus far on our test drive experience and put us at ease, when he told us all the Wraiths that are being driven are pre-production. He went on to explain that the original drive route was supposed to be counterclockwise, but at the last minute RR decided to have the route be clockwise, hence the quirk with the nav system.
After shooting a few photos of the Wraith with our phones, we unfortunately made the driver change and continued along our route. While Hugo became accustomed to piloting the Wraith, I made myself comfortable in the passenger seat. Suddenly, my seat automatically adjusted. That was weird. I few minutes later, it did it again. I finally realized that I was bumping the seat's memory settings with my right knee. The memory settings are located on the lower portion of the passenger side door, just under the door's armrest. Oops! We chalked that up to operator error and not a fault inherent in the pre-production Wraith.
Cruising back to The Phoenician Resort seemed to take less time. Did I get more seat time than Hugo, or was I so comfortable being chauffeured that the time flew by more swiftly? I wondered. I imagine that it's the latter. We got back to the Rolls-Royce suite at around two pm and just in time for a leisurely gourmet BBQ lunch of steak burgers, brats, potato salad, homemade vanilla ice cream… remembering all that wonderful food makes me wish I had gone back for seconds when I had the opportunity. But then that action would have been gauche and not befitting the nature of a Wraith driver.
My only regret on this fabulous Halloween 2013 was that we didn't have more time driving and riding in the Rolls-Royce Wraith. If I was a gentleman with the necessary monetary means to purchase such a beautiful Gran Turismo (Grand Touring – English translation) automobile, I would. Simply stated, the Rolls-Royce Wraith is almost a perfect blend of GT high performance, handling and peerless fit, finish and bespoke build quality all in one very seductive and elegant package. I could certainly see myself taking a family cross-country road trip in the Wraith, but there would have to be two ground rules: 1) I do all the driving, and 2) No drinks or food are allowed in our Wraith. It's the sort of automobile that's perfectly suited for the German Autobahn and the highways and byways of America.